The fifth Edinburgh Futures Conversations series on "The Future of Leadership" took place on 12 and 13 October, kicking off our "Power Trip" Autumn 2023 season.
The Power Trip programme of events explores leadership in all its forms – from the seats of power, to the front lines of activist movements, and even in our own workplaces.
The first Futures Conversations event was a panel discussion that focused on "Leadership in Times of Crisis."
Held at McEwan Hall, the panel included leading activists, authors, and thinkers: Alicia Garza, Talat Yaqoob, Elif Shafak, Maja Göpel, and was chaired by author and journalist Gavin Esler.
The second Futures Conversations event was a special performance held on 13 October at Inspace.
The collaborative performance between composer Pippa Murphy and poet Tim Tim Cheng explored the emotional structure of alternative organisations, followed by a conversation with poet and researcher Patrick Errington.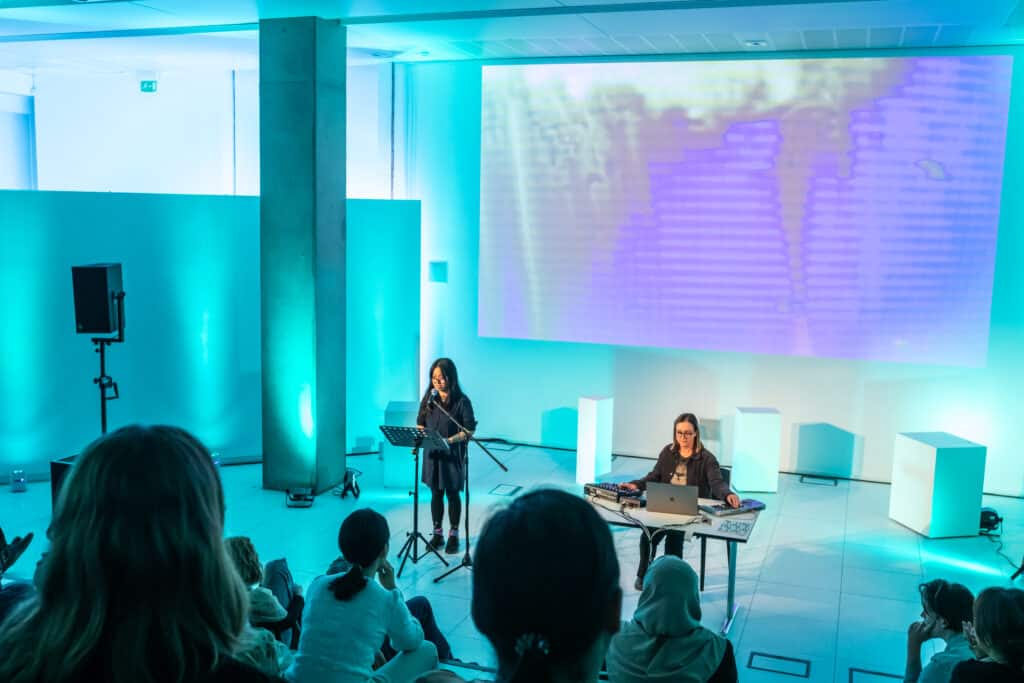 Both events were livestreamed, with close to 400 viewers from over 20 countries tuning in to the panel event.
An attendee from the first panel event said:
"I have been to many similar events before, but this was quite simply in a different league – the inspired choice of speakers, the brilliant moderation by Gavin Esler, the impeccable organisation and smooth technical arrangements all combined to offer a first-class experience for the viewer and listener."
Recordings of the two events are now available to view on our website.
The Power Trip season continues with more events exploring and interrogating notions of leadership in various contexts.
Upcoming events include: 'Handing Over Control with David Runciman' on 20 October at the Playfair Library (hybrid), 'Seizing the Means of Production with Cory Doctorow' (online) on 25 October, and Black History Month: Leaning into the Meta-Physics of Liberation on 27 Octoberat Inspace.
Further information and links
View the full programme of the "Power Trip" Event season
Event recordings
Edinburgh Futures Conversations – The Future of Leadership: Leadership in Times of Crisis
Edinburgh Futures Conversations – The Future of Leadership: A Performance