A new interdisciplinary programme, designed to develop key employability skills and collaborative experiences, focused on global and local challenges, and linked to cutting-edge research and the big future issues facing our planet and societies.
DAVID OVEREND [Lecturer in Interdisciplinary Studies)]
on the value of interdisciplinary study

The MA in Interdisciplinary Futures places challenging questions at the centre of the learning experience. Questions about inequality, sustainability, conflict and global health. You will develop a strong understanding of a wide range of research methods, including data skills and creative practice, and apply these in projects set by one of our external partners so that the activities that you undertake on the program connect to work that is happening beyond the university.
And we provide you with a space for reflection on interdisciplinary collaboration and working in teams to respond to some of the world's most complex challenges. You will graduate from this program with confidence to adapt and respond to unpredictable situations. The future is always changing and employers are looking for people who can challenge, create and make change happen in a variety of contexts and for a range of real-world scenarios.
Join us at Edinburgh Futures Institute and be part of the future of education at the University of Edinburgh.
Develop the confidence, knowledge and skills to work, live and make a difference in a rapidly changing world
Edinburgh Futures Institute's undergraduate programme places interdisciplinary learning and complex challenges at the centre of the learning experience. Your degree begins with profound questions about the world we live in – questions about sustainability, inequality, global health, and conflict.
What are the preferred futures for humanity?
How can we create better systems for humanity to flourish?
How can we access, share, and optimise data to innovate and enhance?
How can we achieve better outcomes for our citizens and communities – and effect change locally, nationally, and globally?
What are the questions you are asking about the future?
"Students as Change Agents [an interdisciplinary elective from the Futures Institute core] has allowed me to be challenged academically but in an exciting and captivating way, it really felt as though I was helping and contributing to the lives of people, my community, and the world."

Daniel Hooper-Jones, Politics student, elective undergraduate pilot course, Edinburgh Futures Institute, 2021-22.
You will apply the methods you are learning to complex problems and respond to challenges co-developed with a partner organisation or business.
At the core of the MA Interdisciplinary Futures is a suite of courses that run throughout the programme in increasing levels of complexity across your four years of study.
You will develop skills in different academic methods of:
data collection and analysis
cultural analysis
creative practice
Programme structure
In addition to the core, we offer flexibility and choice across the breadth and depth of the University of Edinburgh's research and teaching expertise. Developing the interdisciplinary skill sets needed to thrive in our global society.
Across all years, you will work with other students in interdisciplinary teams and you will be able to select several courses each year from a wide range of options. You will be guided in course selection by a dedicated Student Adviser, who will help you to make the right course choices for you.
Career outcomes and employability are key aspects of our undergraduate programme.
Interdisciplinary study is designed to give you the confidence, knowledge, and skills to work and pursue a career in a rapidly changing world. You will develop the personal and professional skills required to work across a range of roles in different fields and careers.
We invest in your future to provide you with the skills to support your future career.
The MA Interdisciplinary Futures offers practical, hands-on learning. It is designed so you can connect with the communities, businesses, employers and environments you will find in the professional world. This means you are able to develop applied and practical skills that are valued by employers and access an incredible network of support that will help you on your journey.
The University of Edinburgh is ranked in the top 10 in the UK for the employability of our graduates* – we invest in your future beyond the end of your programme. Employers value our graduates for their intellectual ability and highly developed transferable skills.
* Times Higher Education, Global Employability University Ranking 2021.
The Careers Service
The University's Careers Service looks to enhance your university experience from the moment you arrive. Dedicated advisors and support are available for information, advice and guidance. And there is lots on offer to support you as you explore a chosen field or profession. From consultations to CV and interview advice to careers events.
Our students are based in the newly renovated, Category-A Listed, Edinburgh Futures Institute in the heart of Edinburgh and the central campus.
You will study and learn alongside our community of students, researchers, partner organisations and businesses. Lectures, tutorials, and classes held in our purpose designed spaces are tailored for both individual and group study and dedicated project work..
Your lectures, tutorials, and classes will be held in our purpose designed spaces, tailored for individual and group study and dedicated project work. You will have access to an on-site cafe, performance space, digital maker labs, group and collaborative workspaces and a vibrant community of partners, businesses and organisations who are part of the Futures Institute space. The Institute boasts 21,300 m² of space, 6,000 of which is new construction. It offers a unique, central location on a large park (Edinburgh's beautiful Meadows) and is steps from the University's George Square campus and central area.
Choose from more than 300 student-led societies and clubs and volunteering opportunities with local charities through the Edinburgh University Students Association. And explore Edinburgh, an international festival city filled with culture, cinemas, theatres, galleries, libraries and collections. From the winding streets of the medieval Old Town to the Georgian squares and terraces of the New Town, Edinburgh is a dynamic centre for digital and data driven innovation, entrepreneurship and world-leading policy on climate and sustainability.
The University of Edinburgh is on track to be carbon neutral by 2040. What's more, the University has a wide range of progressive and longstanding commitments to improve social responsibility and sustainability in our operations, teaching and research. As a student there are numerous ways to get involved and make change happen. Whether it is active participation, internships, training or leadership development you will find a wealth of opportunities to be involved in climate and sustainability issues. And at Edinburgh Futures Institute sustainability is a core part of our curriculum and your studies.
Fees and funding are dependent on where you are applying from.
To find out how much it will cost to study at Edinburgh Futures Institute and what financial support is available please use the links provided.
There are lots of things to consider when calculating the cost of your degree and living expenses. Find our more about fee status and how to calculate your costs:
Up to date information on tuition fees is available on the degree finder entry for our programme. The amount you pay is dependent on your fee status.
Study abroad may incur additional costs depending on your destination. When budgeting for your undergraduate degree, you should also consider the cost of living (e.g. rent, food, utilities) alongside your fees.
The Futures Institute is a new part of the University of Edinburgh, located in the heart of the beautiful, vibrant capital city of Edinburgh.
We are part of a diverse and international academic research community and are one of the world's top universities – ranked 15th in the 2023 QS World University rankings.
What to expect at Edinburgh Futures Institute
Interdisciplinary teaching and curriculum, reflecting today's complex global challenges, with a focus on innovative and data-driven collaboration.
Our focus is on interdisciplinary teaching and research that addresses complex global and social challenges. You will be taught by academic experts from different subject areas, who are leaders in their fields, conducting groundbreaking research that directly informs the teaching you receive.
The range of subjects and depth of knowledge available to our students means more career opportunities and greater control over your course of study, with the option to tailor your degree to match your passion and ambitions.
CHRIS SPEED
[Director of Edinburgh Futures Institute]
a warm welcome to all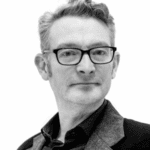 Welcome to the Edinburgh Futures Institute, an astonishing project that has taken many years to develop and is now delivering one of the most exciting curriculums, research cultures and innovation spaces across the UK and Europe.
Bringing together 21 schools across the University of Edinburgh and putting them into one space; one global space where we have online activity as well as in this extraordinary new building, the conversion of the Royal Infirmary right in the middle of Edinburgh.
Alongside the students are researchers, research centres, all collaborating through interdisciplinary lenses to produce an astonishing series of projects that address many of the social, environmental and economic concerns of the day.
Inside the building we'll host tenants who we collaborate with from civic, social, as well as commercial organisations, all wanting to work together to understand how best to address the big problems of our time, really addressing collaboratively the ideas of what it means to think about futures. So welcome to the Futures Institute and come and join us.
Interdisciplinary means the ability to synthesise and apply knowledge and skills from across different disciplines.
It is crucial to addressing complex challenges and planetary-scale issues. It is also increasingly important to employers and future career development and supports the modern skills needed by today's graduates.
We have designed a fundamentally interdisciplinary undergraduate programme to help students develop and apply knowledge and skills from across different disciplines to address complex social and global challenges. We give special importance to the skills and learning that employers and society value, such as: resilience, confidence, critical thinking and problem solving, self-reflection and teamwork.
We are creating innovative ways of bringing together disciplinary expertise in response to complex problems.
Studying in a challenge-led environment means you will learn to scope, explore, understand, and work on complex, multi-stakeholder challenges for the benefit of society.
Developing insights from across disciplines and applying them to complex challenges (organisational, cultural, societal or environmental) are fundamental to our work at the Edinburgh Futures Institute.
Students as Change Agents
This course lays the foundation for the interdisciplinary work that you will do. You will respond to a complex challenge question that has been set by an external organisation or business, working in small teams with students from across the University.
Data shapes our world and increasingly underpins our lives, work and learning.
Understanding how to use data ethically, innovatively, and collaboratively is essential for citizens, professionals, businesses, and governments. It is also critical for employers and professionals across different sectors.
On our Interdisciplinary Futures MA you will develop skills in different academic methods of data collection and analysis. You will apply the methods you are learning to complex problems and have an opportunity to use your learning in response to challenges that are co-developed with a partner organisation or business.
Ethical data practice
Data and AI Ethics is a central and cross-cutting theme at Edinburgh Futures Institute, this is underpinned by the work of the Centre for Techomoral Futures (CTMF).
Fully embedded in our approach to teaching and learning is the art and practice of co-creation.
The outcomes of a co-creative culture are wide and varied and support trust-building, access to talent, networking, personal development and growth, and sharing ideas.
All our undergraduate programme and study encourages students to exchange and explore how knowledge from multiple perspectives (civic, technical, corporate, and social) can tackle the significant challenges that society faces in the present, and near futures. Our learning environment supports the flow of ideas and inspiration between learners, researchers, peers, industries and businesses, and organisations.
Develop sought-after entrepreneurial and innovation skills and be supported to pursue new, creative ideas and take risks.
From design-thinking to new approaches to social innovation, we recognise that entrepreneurs come in all shapes and sizes.
With a range of support from across the University of Edinburgh, and a dynamic community of partners within the Futures Institute, we are creating collaborative environments to pursue new endeavours.
The University of Edinburgh's enterprise service for students and recent graduates (two years post-graduation) can help you start up, sustain and develop your entrepreneurial journey for any business, social enterprise or freelance endeavour.
Learn new skills, join the thriving enterprise community, attend events and workshops, enter a competition or programme and receive one-on-one support. The service is free and you own 100% of your IP.
How to apply
There are lots of things to consider when choosing an undergraduate degree – from your own interests and passions, to the requirements for acceptance, to where you will study. An interdisciplinary degree offers opportunities to study across different subjects and add depth to your education.
Open Days, tours and virtual visits
Find key dates and details of on-campus and virtual opportunities to discover Edinburgh.
Get in touch to discuss your application