Philanthropy plays a critical role at the University and the Futures Institute in deepening and accelerating positive impacts.
As with all world-leading universities, philanthropy plays a critical role in deepening and accelerating positive impacts through our teaching, our research, and through local and global partnerships.
We are committed to partnering with philanthropists and donors on shared goals, and to engaging in meaningful ways.
Whether you feel strongly about finding solutions for the climate crisis, widening access to education, creating innovative solutions to complex problems, or something personal to you, you'll find many opportunities to contribute to Edinburgh Futures Institute's efforts to shape a better tomorrow. Join us in creating change.
There are many ways in which you can engage with giving at the Edinburgh Futures Institute and ensure that your support has impact:
Be a force for equity – support a scholar
Support the Student Success and Diversity Fund
Leave a legacy
Spark the unexpected – explore other ways to give
Even if you are donating from outside the UK, you can contribute to Edinburgh Futures Institute's efforts to challenge, create, and make change happen.
Interdisciplinary undergraduate and postgraduate programmes engage students to embrace new ways of thinking and pursue an education that helps shape a better future, for themselves and for our world.
Talented students who might otherwise face financial hardship while at university are being supported through scholarships. Philanthropy supports the Edinburgh Futures Institute to make a more powerful impact and increase equity. Donations of all sizes have helped open doors to education, pave the way for new innovations, and create opportunities for our students to achieve.
Students are leading projects, making an impact in the community, and bringing innovative ideas to life with the support of donors like you. Hear from two recent scholarship recipients: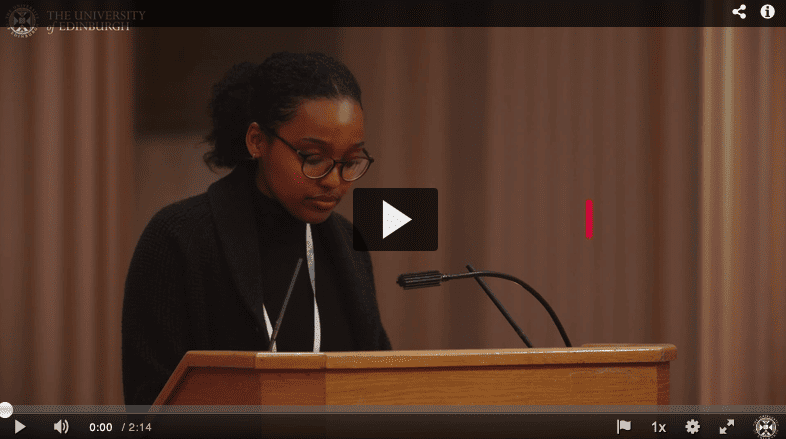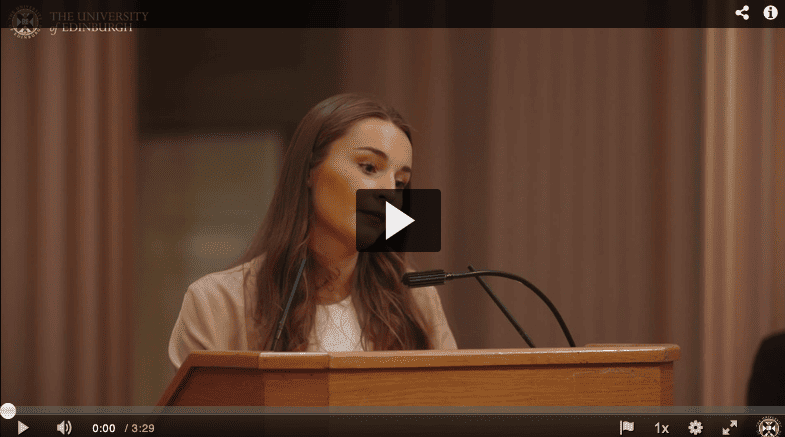 To learn more about how you can impact the life of a student by supporting a scholarship, get in touch with Felicia Murray at Felicia.Murray@ed.ac.uk.
Explore some of our existing scholarships
This is an incredible learning environment for students from all backgrounds to come together and spark learning and create change.
We bring people, data, and diverse disciplines together in a open, what-if environment to spark the unexpected and create new ideas. We work on live issues, side by side with communities, business, citizens, and governments. With a thriving research and innovation ecosystem, the Futures Institute has the unique opportunity to create a space for engagement that drives creativity, innovation, and action.
Diversity is at the heart of our ethos, and our commitment to creating a truly diverse community of students will be supported by our "Student Success and Diversity Fund." When circumstances change, this flexible fund helps us respond in the most effective way at the right time to provide student support where it is needed most.
Get in touch with Felicia Murray at Felicia.Murray@ed.ac.uk to find out more about how to support our Success & Diversity Fund.
From the impact of our research to the achievements of our people, the University of Edinburgh makes an important contribution locally, nationally, and globally.
With a gift in your will, you can create opportunities for future generations. Whatever your circumstances, we can guide you through the process of leaving a gift in your will.
Learn more here. Gifts in wills | The University of Edinburgh
Support us to challenge, create, and make change happen – collaboratively and co-creatively.
We are excited about offering opportunities to philanthropically-fund bespoke areas of interest and we welcome ideas and collaborations.
To learn more about naming opportunities and partnerships with the Futures Institute, please contact Felicia Murray. If you are interested in giving across the arts and social sciences, contact Martyn Dempsey-Caddick.
Giving from outside the UK?
Alumni and friends who are taxpayers in the USA can support the future of the University and its students through the University of Edinburgh USA Development Trust. There are also tax-friendly opportunities to support the future of Edinburgh students from Hong Kong and Canada. To learn more, contact Felicia Murray at Felicia.Murray@ed.ac.uk.