Edinburgh Futures Institute is for the inventive, the critical, and the creative. We are for those who embrace new ways of thinking and want an education that helps shape a better future, for themselves and for our world.

Welcome to the Edinburgh Futures Institute at the University of Edinburgh. My name is Dr. Kate Orton-Johnson, and I'm the director of Education here at EFI. At EFI, we recognise that the challenges facing our global futures are complex and multifaceted, requiring innovative solutions. We believe that innovation thrives where diverse perspectives come together. We welcome people from a range of backgrounds.
Whether you're passionate about technology, arts and culture, business and entrepreneurship inequalities, governance or sustainability. EFI offers a diverse range of programs designed to unleash your creativity and help you become a critical citizen in a fast-changing world. Learning at EFI is interdisciplinary, critical, participatory and future focused. You'll benefit from award winning teaching and research expertise at one of the world's top universities.
Innovative fusion teaching methods enable you to study online or on campus for an internationally recognised postgraduate qualification. We welcome you to join us as we challenge, create and make change happen.
What to expect at Edinburgh Futures Institute
Interdisciplinary teaching and curriculum, innovative and data-driven collaboration, with a focus on complex global and social challenges.
You will have the space to think deeply about issues linked to your own passions and professional goals.
Our programmes and study opportunities offer access to world-leading interdisciplinary teaching and research that addresses complex global and social challenges. Here you will be taught by academic experts from different subject areas. And you will develop creative, critical and data-informed thinking that cuts across traditional disciplinary boundaries.
CHRIS SPEED
[Director of Edinburgh Futures Institute]
a warm welcome to all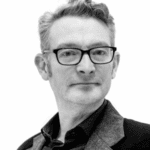 Welcome to the Edinburgh Futures Institute, an astonishing project that has taken many years to develop and is now delivering one of the most exciting curriculums, research cultures and innovation spaces across the UK and Europe.
Bringing together 21 schools across the University of Edinburgh and putting them into one space; one global space where we have online activity as well as in this extraordinary new building, the conversion of the Royal Infirmary right in the middle of Edinburgh.
Alongside the students are researchers, research centres, all collaborating through interdisciplinary lenses to produce an astonishing series of projects that address many of the social, environmental and economic concerns of the day.
Inside the building we'll host tenants who we collaborate with from civic, social, as well as commercial organisations, all wanting to work together to understand how best to address the big problems of our time, really addressing collaboratively the ideas of what it means to think about futures. So welcome to the Futures Institute and come and join us.
Interdisciplinary means the ability to synthesise and apply knowledge and skills from across different disciplines.
It is crucial to addressing complex challenges and planetary-scale issues. It is also increasingly important to employers and future career development and supports the modern skills needed by today's graduates.
We offer fundamentally interdisciplinary study and draw on diverse disciplines to support you to work creatively and ethically with all kinds of data. Our students develop and apply knowledge and skills from across different disciplines to address complex social and global challenges.
We are creating innovative ways of bringing together disciplinary expertise in response to complex problems.
Studying in a challenge-led environment means you will learn to scope, explore, understand, and work on complex, multi-stakeholder challenges for the benefit of society.
Developing insights from across disciplines and applying them to complex challenges (organisational, cultural, societal or environmental) are fundamental to our approach at the Edinburgh Futures Institute. On most programmes you can choose to define your own project, bring a project your employer would like you to address, work on a project set by one of our external partners, or align your work to one of our research programmes.
Data shapes our world and increasingly underpins our lives, work and learning.
Understanding how to use data ethically, innovatively and collaboratively is essential for citizens, professionals, businesses and governments. It is also critical for employers and professionals across different sectors.
We're working with organisations and professionals, from sectors like FinTech, creative industries, public services and tourism to tackle challenges, improve products and services, and develop new ones through better use and understanding of data.
Ethical data and advanced data skills
Data and AI Ethics is a central and cross-cutting theme at Edinburgh Futures Institute, this is underpinned by the work of the Centre for Techomoral Futures (CTMF).
In addition to the core data skills developed through our programmes, postgraduate students also have the opportunity to explore advanced digital methods with training from the Centre for Data, Culture and Society (CDCS).
Fully embedded in our approach to teaching and learning is the art and practice of co-creation.
The outcomes of a co-creative culture are wide and varied and support trust-building, access to talent, networking, personal development and growth, and sharing ideas.
Our curriculum encourages students to exchange and explore how knowledge from multiple perspectives (civic, technical, corporate and social) can tackle the significant challenges that society faces in the present, and near futures. Our learning environment supports the flow of ideas and inspiration between learners, researchers, peers, industries and businesses and organisations.
Develop sought-after entrepreneurial and innovation skills and be supported to pursue new, creative ideas and take risks.
From design thinking to new approaches to social innovation, we recognise that entrepreneurs come in all shapes and sizes.
With a range of support from across the University of Edinburgh, and a dynamic community of partners within the Futures Institute, we are creating collaborative environments to pursue new endeavours.
The University of Edinburgh's enterprise service for students and recent graduates (two years post-graduation) can help you start up, sustain and develop your entrepreneurial journey for any business, social enterprise or freelance endeavour.
Learn new skills, join the thriving enterprise community, attend events and workshops, enter a competition or programme and receive one-on-one support. The service is free and you own 100% of your IP.
"The most interesting part of Edinburgh Futures Institute is the interdisciplinary nature of it, the collaborative nature of it, the fact that even though you're on your programme, you're in and among lots and lots of different students from different programmes. It's not streamlined in the way that other postgraduate things are where you have your cohort and that's it. As a part-time student I'm meeting people that are doing this course from China, from Chile, from South Africa, from Berlin. It's global, and it's that community, it is just such an amazing opportunity…"

Jo, MSc Education Futures postgraduate student